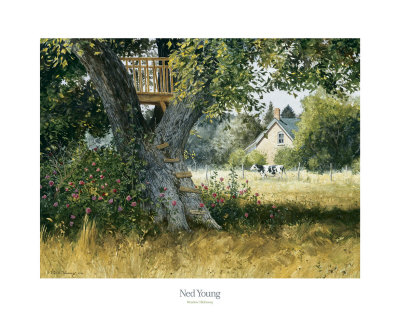 Of course, when we're acting a tad crazy while preparing for company, good friends tell us, "Don't worry. They're coming to see you, not your house." And they're sweet and mean well and we appreciate their trying to calm us. Really we do.
But yet? That's one of those old sayings which doesn't ring quite true for me, especially when your soon-arriving friends told you they're coming to see you and your new farm (emphasis mine). Especially when you've poured decades of your best creative hours into decorating your home, have sweated buckets out in your yard, and the whole picture has become a reflection of the inside of you.
And especially when you so enjoy inspiring others to return home and rearrange some furniture or paint their walls the outrageous, fun color they've always meant to.
I think we who always have decorating on our minds just can't believe--or don't wish to believe--that our visitors just want to see us and won't even care about the surroundings we've poured our souls into.
These are my thoughts as I prepare for our upcoming visit with Galen and Donna from Nevada, two dear friends who will visit us for the first time in our 18 New York years. Donna's and Galen's hospitality and sense of color and style has always inspired me and I find myself wanting to return the favor, to delight them both with the whole down-on-the-farm-experience thing.
And you know? God has told me that is fine--as long as I keep it at that level. You know, to delight our friends, to give them an experience here on our place (and out and about Western New York) that they'll always remember.
But, He tells me (often, because I keep forgetting), it's not ok to go crazy-stressed-out-of-my-brain-overboard. You know, by attempting to finish every single incomplete project around here in two short weeks. And even thinking about impressing our friends is way, way out of line (He says). Killing myself by cleaning everything to a perfect shine is sooo not permissible, either and neither is trying to make this house, this yard and myself something we all are not.
It's about balance, true. But I believe it's about something deeper, even, for those of us who decorate with our whole hearts. It's about being real and who we are today, yet allowing these impending visits to stretch us, to make ourselves (and our homes) better. To give us a little push in what we've procrastinated cleaning or redecorating for sometime, yes, but to also flick us into deeper realms of wanting to inspire and care for others' needs much more than we hope to hear accolades from them.
In other words, may I see all upcoming visits as an opportunity to make our house and yard better, and my heart, kinder, and more servant-minded so our visitors will drive away feeling renewed, inspired, rested and very glad they came.
*****************
"Be devoted to one another in brotherly love. Honor one another above yourselves." ... Romans 12:10
*****************
"Contribute to the needs of the saints and seek to show hospitality." ... Romans 12:13