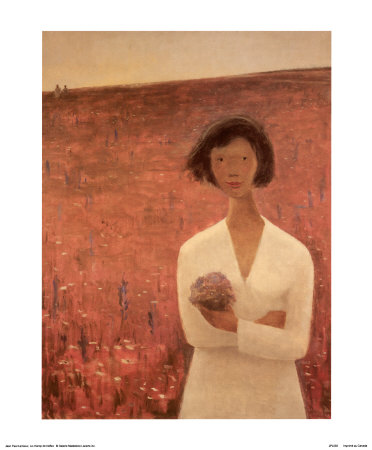 So early this morning I knelt at our opened bathroom window (which starts low and rises high) and gazed at our green field and my prayed-for clothesline and greening trees and the marsh and back meadow and felt the amazing 70-degree-breeze upon my face.
I thought, "Ah, this is truly lovely! Truly! And yet, and yet... I know now that I don't need all this in order to be happy."
And that thought made me happy.
I'm thinking God wants my 'What I Must Have In Order To Be Happy List' to be, well, short. I mean, some peoples' WIMHIOTBH lists go on forever. Like, "I must have:
Extra money
A spouse
2.4 children
A great body
A beautiful face
Lots of friends
A big house (or a certain house)
A huge yard (and someone to care for it)
Sunny days
Perfect health
A college degree
An easy, great-paying job
An expensive (or certain) car
A library of amazing books
A vacation each year."
And that's just the top half.
But as for me? I'm thinking God desires that my own WIMHIOTBH list have, oh, one thing:
God.
That's it. As in, what if I lost everything? Well, I believe God wants me to know I'd be fine, happy, just as long as I still have Him. Just put me in a room, (a cell?) and then I could sing and meditate and talk with Him and remember how good He's been to me all these years. That's my goal.
But ok, I'm not quite there yet. Uh, no. Yet I so want to be at that heart place! That's what I'm aiming for. And you know? Lots of my 'must haves' over the years have fallen away like scales from a snake. I've shed them. But oh dear,, some of those scales still stick to me as though rubber-cemented on for, like, forever.
But there's been progress. And the great thing about God? He enjoys showing you the progress you've made. It's satan who enjoys playing the film of our mistakes and how very far we have left to go.
Yet, year by year, my own WIMHIOTBH list is shrinking. And that, in itself, makes me quite happy, indeed.
*************