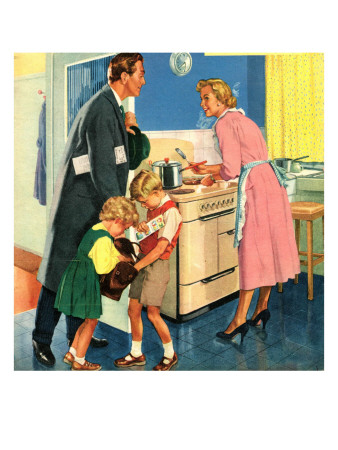 So this past December I would watch all these Christmas tv commercials for ipads, ipods, cell phones with big-time bling and all that other electronic stuff and I'd think, "Wow. It feels like Tom and I live on some other whole planet. We can't even think about buying that stuff now, what with Tom's being out of a job and all."
But you know? It's a good, mind-bending challenge to live on this other planet. The main thing here? Keep it all a fun, creative challenge. And never feel sorry for yourself, what with the extra work you must put into stretching those dollar bills. For once you start pitying yourself, your family, well, you're sunk. That is, until you can pull yourself back up someday from pity mire.
And why go there?
No, I'm choosing to dwell in possibilities. I've returned to where I used to live years ago--to a land where creativity and making-do are vital as the air you breathe. A place where it's all about enjoying the search.
Like, the search for those gallons of 'mistake paint' at hardware stores which enable me to paint whole rooms for under $5, including the paintbrushes.
And the search for grocery coupons which help me save one-third (or even one-half) from my grocery bill. The search for yard sales where I can buy nearly everything I need for the house for a teensy fraction of its new cost.
The search for online recipes so to make lots of creative somethings from the nothings in my cupboards. Searches for tasty meat-less meals. And searches for ways to make some pocket change through online survey sites and places like Swagbucks.
The search at my local library for free books showing me how to live and decorate and take day trips cheaply. Free books for relaxing, adventurous reading, too. The latest magazines and free movies to watch at home, as well.
The search online for just about any information imaginable! From health and automotive and gardening to decorating, sewing and living within your (tight) means.
On this other planet I'm learning what is necessary and what is just plain extra (and unneeded for true happiness). I'm learning that simple things are the best things and if all I have are simple things, well, then I'm most blessed among women.
I'm learning to keep the search, the daily living at a joyful, appreciative level. To not resent what others own (and blog about with grand photos), but to be happy for their blessings--for that is how God would want it.
And I'm learning it's not actually the ecomony that defeats us, but rather, our own heads and the give-up spirit. The fearful spirit, also, which keeps us from giving to others, for always, it is in giving that we receive.
May I never resent my years spent upon this other planet, but rather, may I appreciate the creative spirit they squeeze from the deepest parts of me, making me into a more imaginative, grateful person all-around. One who can spread that same light to others who live here, also, but only if she keeps it shining within herself, first.
******************
Other ways to save:
Barter with friends and neighbors for everything from babysitting to meals to errands and beyond.
Check out thrift shops. Sell things through consignment shops and places like CraigsList. Have a yard sale or take some clutter to a local flea market to sell. Watch for the free items through your local Freecycle online.
No nearby major supermarket chain? Make a big shopping trip once a month to stock-up on groceries at the nearest good-size community. Don't forget all your online coupons--they'll more than pay for the extra gas money. Spend the day there and shop for inexpensive clothing and other necessary items your local town does not offer. (Barter some babysitting if you have children--you'll save money if they stay home during those monthly shopping trips. It takes great concentration to do all the math necessary, especially at supermarkets. My brain gets a total workout every two weeks there!)
*******************
My favorite Online Survey Sites:
Ipsos I-Say
My Survey
Opinion Outpost
******************
Some favorite sites for grocery coupons (The Krazy Coupon Lady has the very best coupon data base, imo):
Red Plum
Smart Source
Coupons.com
Coupon Cabin
Saving Naturally
Coupon Dad
Money Saving Mom
The Krazy Coupon Lady
******************
"Unless you try to do something beyond what you have already mastered, you will never grow." -Ronald Osborn
Really use what you own, what you have. Including the head God gave you. :)