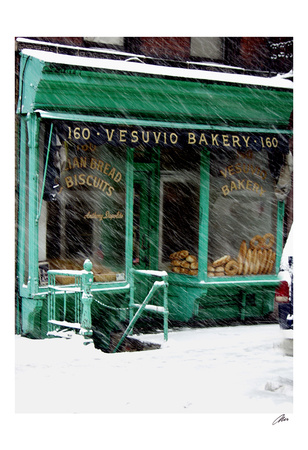 So guess who finally got out of Purgator--, uh, her house today?
Yep, ol' Debra. Tom had an appointment at the unemployment office in a city by way of the countryside and though all the trees are still brown and the skies, grey, it felt wonderful to sail along these quiet country roads.
He dropped me off on an unfriendly-feeling, tall-building'ed corner near an antique shop, but when I arrived at its door I was greeted by a big Closed sign. Alas. But the nice thing? A new bakery stood next door, so new, that I fancied God had placed it there just for me, a welcoming place so to escape from the cold. I slipped inside the customer-less shop to wait a half hour until the antique store opened and an elderly man and a younger woman (probably father and daughter) greeted me warmly. After I ordered a decaf and a small bran muffin (not one of those huge ones) I apologized to the woman for having only a 20 dollar bill. I told her, "I hate to do this to you," and did she grouse? Did she turn all beady-eyed and ask me if I had anything smaller? No, she happily said, "No problem! Twenty dollar bills have to come in sometime. It's fine."
Wow.
These two people seemed to have such servants' hearts. The woman had to make a new pot of decaf (she didn't complain about that either) and then she brought my coffee to my table where I sat squinting at the newspaper (I am often--hey, not always!--too vain to wear my reading glasses in public). Also she brought along a large basket of cream and sugar and later her dad--I am supposing--came around the counter and asked me kindly if he could get me anything else.
For the entire half hour I was their only customer and oh my, though the muffin tasted amazing (oh, that cream cheese swirled on top!), my decaf was, well, dreadful. Like instant decaf, only worse. So I poured in more cream. Then more sugar. Tasted it, then added more cream. More sugar. Re-tasted it and gave-up and drank most of it anyway.
And I sat there and prayed this business would succeed. All that new pretty paint, different colors on each wall and two baskets of fresh flowers, one with a congratulations balloon, sat on the front counter and gaily shouted, "We are trying a new venture!" But scarily, across the street stood a coffee shop with an oh-so-cool neon light the shape of a coffee cup and an awning and a sign sure to bring in young, hip coffee-seekers who fancy themselves java experts.
My little new shop screamed none of that, but I'm betting their pastries and homemade baked goods are better than that cozy-appearing place across the way. And although I sat there and got all dreamy eyed about how the coffee must taste over there, still, I was glad I'd landed where I had. I thought how God probably wanted me to choose this quiet place with its small shiny silver boom box (the shop's entire sound system) just feet away from me playing sweet trendy tunes.
But oh, nowadays I do know this--if you are going to sell coffee, it had better be good. No, terrific. Most people have been coffee enlightened and most refuse to go back. And the sad thing? My homemade decaf which I make daily in my $3 cheapo, old coffee maker tastes like nirvana in comparison.
So like I said, I prayed. And I would have loved to give these oh-so-kind people some helpful advice about making coffee, but you know I didn't of course. I just thanked them on my way out (they both thanked me, first) and told them it had all been wonderful.
And you know? Take away the dreadful coffee and it was wonderful. The getting out alone, the sitting at a bistro table in a coffee shop, something I used to do all the time but now almost never get to. And the praying for people who will never know I prayed--that's good for me. And I hope it will be good for them, as well. May they stay in business for as long as their servants' hearts desire.
*****************
We had more adventures today, but for now, this is the only one I'll share. Though if you're wondering about the antique shop, let me just say there was just too much stuff in too many booths in too many rooms. Too much expensive stuff, making me just want to go home and declutter my own old belongings.