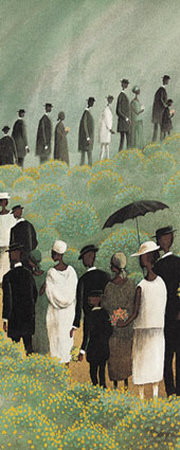 You know how, when someone close to you dies, you're supposed to allow yourself to go through all those stages of grief so that, someday, you can accept your loss and move on in a healthy frame of mind?
Well. This past week I've been convicted to finally hold a funeral for Suzy. You know, Suzy Homemaker. The way, seven months ago, I went from (freely and with great splashy abandon) playing Suzy 64 hours a week to now averaging only 2. From having my own kitchen and a sweet Mom Cave to a shared kitchen and no room of my very own.
And with no Lennon the Cat to sit beside, either.
I am only just now seeing that the stress I've been experiencing (it came to me that Naomi's second sentence was more accurate--I've acted stressed-out, not worried) is because I've been, one by one, experiencing the first four stages of grief over the loss of my Suzy Homemaker lifestyle:
1. Denial
2. Anger
3. Bargaining
4. Depression
Gah! How could I be so clueless? I've been grieving unknowingly over Suzy's demise. I didn't until this week even guess why such foreign emotions plagued my head (well, foreign for the Debra of the last 17 years. Previous Debra lived with those things daily back in the 70's and 80's.)
It's time to admit Suzy has died. And I have been grieving her death even without realizing it.
And the time's arrived to stop pretending things are the same, for that brings only more stress when, over and over, I do not get my way. When I don't get to play my music loud and flit about the house in my apron doing what I want exactly when I want to. And all those other freedoms which come along with true, traditional Suzy Homemakering.
Those days are gone.
And there comes a time, one so vital, to admit when you lost what you once had. Otherwise you go, well, crazy. It's the people who skip the final stage of grief--Acceptance--who have been known to go insane. To go around pretending they still have what they lost, and have it (or him or her) the same way, paving a path to an other world which does not exist.
Or at the very least, they become a stressed-out bundle of nerves ready to snap at anyone who tries to help. (And uh-oh, I know about that lady, for I've been her lately. Many's the time I've asked myself, "What is the matter with you, Debra??")
So finally Suzy will have her funeral. And I will move on to Stage of Grief Number 5 (acceptance), for too many albeit-necessary hours have already been spent parked at Stages of Grief 1 through 4.
It's time to let go. To move on within my new parameters so that I can design a new way to live my days, to custom fit them into this new stage so to discover the fresh freedoms waiting for me there.
*****************
The good news? This will be my final post about the sadness of my lifestyle loss. I've written too many such posts (during those first four stages of grief) and it's time to end them for your sake. And since I'm choosing to move into Acceptance, that promise won't be hard to keep. Since Tuesday of this week, everything (everything!) about my life has looked so much brighter. (Thank goodness, right?) :)
******************
Oh! Have you seen the new CBS show on Friday nights called Chaos? Tom and I caught the first two episodes and found them to have just the right amount of humor and drama. Love it.