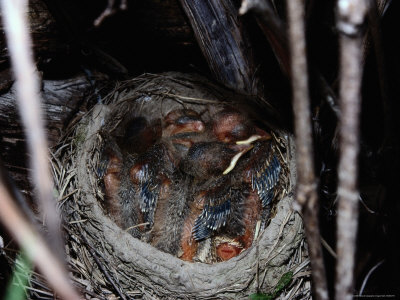 Remember how I said I don't get as upset when a wild animal dies as when a pet does?
Well, I think I lied.
A couple of (not too bright) robins built a nest in our open carport in the same corner where I keep my gardening tools just under the eaves, more on the outside. Well, every time I'd reach for my garden tools (like a ton of times daily), the mother robin would fly away from the nest and I'd see her three babies all with their mouths stretching upward, wide open, silent.
Of course, making me feel guilty for disturbing the family.
Well, today the nest was no longer overflowing with birds. No, I think there in the shade, I can just see one. And it looks dead.
Gah
.
So I worried about the other two for an hour (which is ridiculous, I know. We're talking about wild creatures here, things I can do nothing about.) But later I saw a robin in our Bunny Pasture with two tiny birds who looked positively giddy to be alive there in the sunshine and grass.
Oh well, I guess two out of three baby robins isn't bad. But still.
Sometimes I believe I am so strong and then death happens on our four acres and spoils my day--and my personal illusions.
Tom sure handles it better, though. I'll come in from outside and he'll be reading the newspaper. I'll tell him, "There's a dead baby robin in the nest," and he'll say, "It's the Circle of Life."
Or I'll say, "I found a dead bird inside the barn today." And he replies, "It's the Circle of Life."
"I accidentally ran over a snake with the lawnmower."
"Circle of Life."
"A frog died in the garage today, I think when I opened up the door on his head."
"Circle of Life."
(The above stories are true. No names were changed to protect the innocent because no one was innocent.) :)
Sigh. Sometimes you just have to buck up and realize some things just are the way they are. They've always been that way and they will continue to be so long after you are gone. It's called acceptance.
And basically most people are just the way they are, too, and it's foolish to stay mad at them for that. Or to spend whole hours offended. Yes, we can let them know they've hurt our feelings. We can hold them accountable, too. But during the months and years of their changing--
in the meantime--
we can choose to be stronger, less touchy. And we can learn to get our worth from God so that we don't walk around like needy beggars trying to suck affirmation out of people who are incapable of giving it to us.
At least, that is what I've learned. That is what has helped me find an incredible amount of daily happiness.
Well, in between all those animals dying around our farm.
***********
If you know who you are in Christ, you won't need to hear who you are from other people. At least, not so much.